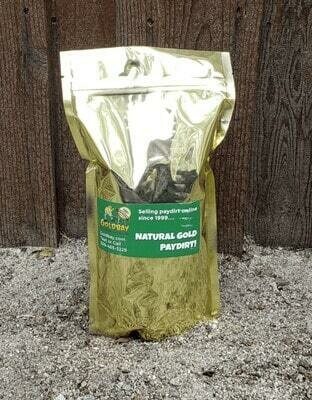 3 pounds of paydirt – 1 gram of gold – LESS than SPOT!
SKU 1g-lts
Product Details
Chunky Paydirt for sale – LESS THAN SPOT!
1 Gram of gold Guaranteed!
Approximately 3# of PayDirt – This Paydirt bag of gold concentrates is guaranteed to contain at least 1 gram of #10 mesh (and smaller) gold flakes and nuggets and weighs about 3#.
You can use options to add MORE and BIGGER gold to you order!
Once you have tried our paydirt gold concentrates you wont go anywhere else! Our Paydirt has been reviewed independently on Youtube and you can see that HERE and HERE and Klesh Guitars did a great review of my 1 gram bag
Save this product for later